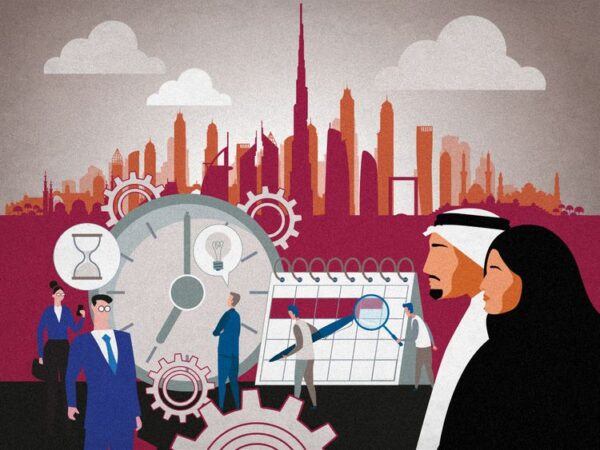 Drawing from the Gulf News version of my op-ed
A few days ago, the UAE announced that it was making two big changes to its workweek in 2022.
First, starting in January, the weekend is going to change from Friday-Saturday to Saturday-Sunday. Friday-Saturday has been the standard weekend much of the Middle East, and that has always created some challenges for businesses working both there and in the countries where businesses closed on Saturday and Sunday.
As official government announcement explains,
From an economic perspective, the new working week will better align the UAE with global markets, reflecting the country's strategic status on the global economic map. It will ensure smooth financial, trade and economic transactions with countries that follow a Saturday/Sunday weekend, facilitating stronger international business links and opportunities for thousands of UAE-based and multinational companies.

The new working week will also bring the UAE's financial sector into closer alignment with global real-time trading and communications-based transactions such as those driving global stock markets, banks and financial institutions. The move is expected to boost not only trading opportunities but also add to the flexible, secure and enjoyable lifestyle the UAE offers to its citizens and residents.
Second, the workday is getting shorter: ministerial-level government offices and schools will close on Friday after lunch, in time for Friday prayers. This isn't completely novel in the UAE: at least one company, Active Digital Marketing, trialed a 4-day week this summer. Once again, quoting from the government announcement:
The extended weekend comes as part of the UAE government's efforts to boost work-life balance and enhance social wellbeing, while increasing performance to advance the UAE's economic competitiveness.

Adopting an agile working system will enable the UAE to rapidly respond to emerging changes and enhance wellbeing in the workplace….

The Federal Authority for Government Human Resources proposed the new workweek following comprehensive benchmarking and feasibility studies reflecting potential impacts of the move on the economy, social and family ties and the overall wellbeing of people in the UAE.
How will companies respond? Will they follow the government's example, or keep working a 5-day week?
The government isn't requiring them to change:
No specific instructions or guidance was made relating to the private sector, but companies do not require the government's permission to set their working week.

Speaking to The National, Abdulrahman Al Awar, Minister of Human Resources and Emiratisation, said private sector employers would not be told to fall in line with the new working week.

"Private sector companies are smart and they have been operating in a very competitive market … they will make their decision based on what they feel will improve their position," he said.
There don't seem to be many policy changes that will force them to change. The official length of the workweek will not change (maximum of 48 hours per week), though Friday will no longer be the state-mandated day off. And Saudi Arabia and other important regional trading partners aren't making a similar shift, which could put some companies in the position of having to choose whether to align with the regional week or the global business workweek— or maybe operate seven days a week, or do something like take Fridays and Sundays off.
But given that plenty of companies do business with the government, and lots of managers and employees will now have children whose school weeks end at Friday lunch, there are practical reasons for them to at least experiment with a shorter workweek. As Neil Crossley and Yasmin Naja at DLA Piper Dubai explain,
It is likely (and indeed has been confirmed by many businesses) that the bulk of the private sector in the UAE will switch its working week following this announcement. Many businesses serve the public sector and to do otherwise would not make business sense. Key institutions will not be open on a Sunday and support will be required on Fridays. Further all businesses will have employees whose family routines have just been changed. Families will want to rest and play together and not operate on different timetables.
So what does this mean for the global shorter workweek movement? Well, it just so happens that I have a piece about the UAE's plan and its global implications!
The UAE's move to a four-and-a-half day workweek will see the weekend shift from Friday and Saturday to Saturday and Sunday and include a half-day on Friday. This may seem a half-day less ambitious than initiatives elsewhere, but there are several things that make it novel – and potentially transformative.
First of all, it's big: the UAE's public sector employs about 900,000 people. Second, it'll also involve schools from the beginning— which will affect even more people, and will provide both pressure and air cover for businesses to shift to a shorter workweek as well. Third, the shift is part of a bigger strategic transformation of the economy.
My op-ed has appeared in a couple different papers, and I'm hoping to talk to some companies and schools about how they're making the shift.
I've never been to the UAE, but reading about this and the few brief conversations I've had have made me think that it would be really cool to go there and do some fieldwork. (Better see how many frequent flyer miles I have.)