This past Friday December 10, I talked about the 4-day workweek on The News with Shepard Smith.
The segment looks and sounds great, thanks largely to the efforts of the CNBC producer and engineer— I had to switch from my usual setup, which for some reason was really pixelating a lot, to an iPhone and old Jabra Evolve 75 headphones about two minutes before the segment started.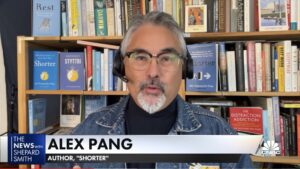 Nonetheless, it all worked out great, or as well as I'm able to do in live performances!