Soo Youn at the Washington Post writes about what companies are doing to deal with (or better yet, head off) employee burnout as they try to get back to a new normal:
Employers across the country, from Fortune 500 companies such as PepsiCo and Verizon to boutique advertising firms and nonprofit organizations, are continuing pandemic benefits such as increased paid time off and child- or elder-care benefits as well as embracing flexible work schedules and remote work in recognition that a returning workforce is at high risk of burnout….

"Expecting people to just 'return to work' does not acknowledge the challenges and difficulties employees endured. Employers can't expect employees to just pretend like we didn't just live through a social catastrophe — especially as that catastrophe continues to unfold around the world," Stanford University sociologist Marianne Cooper said.
In addition to making flexible work options permanent, companies are also strategically taking time off:
Last week, Bumble, the company behind the dating app, took the week off. LinkedIn shut down for a week in April. Last summer, Canadian e-commerce company Shopify instituted "Rest & Refuel Fridays" globally and will do the same this year from July 2 through August.
Part of what's interesting here is that they tap into the power of structural and collective approaches to stress and work-life balance— the kind of approaches that companies that move to 4-day weeks— rather than offering individual options:

"We've always had very flexible hours and encouraged vacations and time off for mental health because those things are important. But early in the pandemic, we realized people needed more — something structural that they didn't have to ask for," [Versus Systems] founder and chief executive Matthew Pierce said….

Mardi Douglass, senior director of culture and engagement at Mozilla, said, "Having a day off when the whole company's also off is actually the thing that makes me feel relaxed. I don't feel guilty. It's not piling up. I don't feel like I've been slacking on emails."
This is better than leaving responsibility to individuals to figure all this out for themselves, which has been the preferred approach at many companies, even when they recognize the structural dimension of these issues: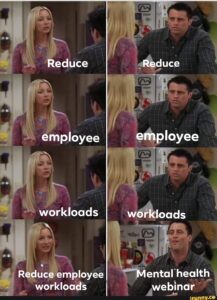 from ifunny